Over 300 engaging, instructor-led courses and career training programs available free online using your North Webster Library card. Six-week courses cover all types of topics and subjects, focusing on professional development, technology skills, and personal enrichment. Enroll for free today!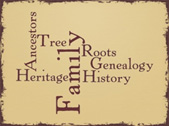 Beginning Genealogy Course
10:30, Tuesdays, Oct. 4, 11, 18 & 25
Learn how to get started researching your family history in this 4-class course. The course is free, but pre-registration is needed. Sign up at the Circulation Desk or call 574-834-7122.
Library will close at 11:00 a.m. on Thursday, Sept. 29, and re-open after the Indiana Bicentennial Torch Relay passes through North Webster at approximately 11:15 a.m.
301 North Main Street - North Webster, Indiana  46555
We're in the North Wing of the North Webster Community Center