Beginning Genealogy Course
Tuesdays, Oct. 5, 12, 19 & 26 at 5:30
Learn how to get started researching your family tree in this 4-class course. The course is free, but pre-registration is required. Sign up at the Circulation Desk or call 574-457-7122.
Chair Yoga
Wednesdays at 11:00 Sept. 8, 15, 29, Oct. 6, 13 & 20
Achieve the health benefits of yoga as you learn yoga poses while sitting as well as standing using a chair for support. The class is free. No yoga mat needed.
Friends of the Library Book Sale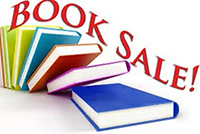 Thursday & Friday, Sept. 23 & 24
Sale hours: Thursday 10 am to 6 pm & Friday 10 am to 3 pm
Stock up your home library with these bargains! A great selection of good quality, gently used books, DVDs, and puzzles available in all genres for adults and kids. Proceeds go to support the work of the library.
Writer's Corner
Monday, Sept. 27 , 10:00
If you like to write join us the fourth Monday each month to share with other writers. It doesn't matter if you're a novice or published author. We share ideas, stories, techniques and encouragement. For our Sept. 27 meeting, write about solving a crime and bring it to share.
Voyager Book Club
Monday, Sept. 27 , 5:30
In this book club, everyone reads a book of their choice within each month's assigned genre. For our Sept. 27 meeting, read a book by an author you've never read before and share what you've read.
Let's Move Dance Fitness Class
Every Thursday through Nov. 18 at 6:00 p.m..
Join us every Thursday evening as we have fun dancing for fitness. Class is free and open to adults of all fitness levels.
110 E. North Street - North Webster, Indiana  46555
We're located on the corner of E. North Street and SR 13,
directly south of the North Webster Community Center